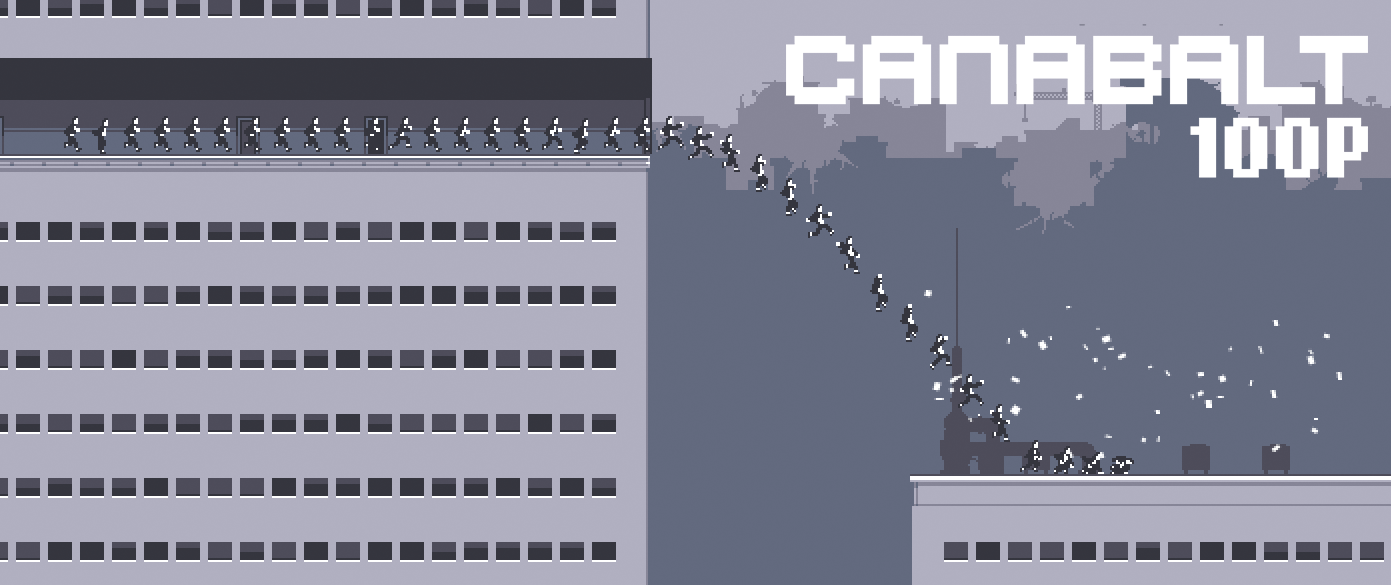 Canabalt 100p
A downloadable mod for Windows and macOS
Canabalt 100p
Canabalt 100p is a modification of the original game made by Adam Saltsman. This installation allows for 100* players to play together, or for 1 person to play with 100 avatars, or anything in between. The white keys each control one of the characters, in a logically corresponding order. It is made with Adam's permission, and built from the same codebase as the original 2009 Flash version of Canabalt .
Each button on your keyboard, or on a custom controller like a digital piano, is tied to one of the avatars on screen. This installations allows for many different ways to engage with this modern classic. It can be played as a survival game, competitively, as well as collaboratively to reach the furthest point or the highest score. As a single player game it will encourage you to do a continuous glissando, or mexican wave, to control an amount of units that you would normally only encounter in an RTS game
The adaptation was made by me, Jonatan Van Hove. The game and name was inspired by Canabalt 2p, which ran on the Winnitron arcade project. Canabalt 100p was part of the first ALT.CTRL. GDC in 2014, and exhibited with a physial piano. Thanks to Adam Saltsman for the permission and the source code, Mads Johansen, Jonas Maaloe for assistance and John Polson for organizing ALT.CTRL.GDC.
Original Canabalt description:

Speed across rooftops to outrun the demolition of your city by a terrible force! Plan your jumps carefully though or you could end up splattered
Setup instructions
Since this project is made in Flash, it's in legacy limbo and could be made unplayable at pretty much any time. Windows is the safest bet, but I did get it to work on MacOS Mojave in January 2019.
The game is made in Flash, and uses an optional config file (config.txt) as well as some optional external sound files (note_2 folder). Recent versions of the Flash player, and the MacOS operating system don't allow this functionality nicely.
The .exe was tested on Windows 10, and the .app on Macos Mojave, but if they don't run or don't have access to the config.txt file...
Try running the Canabalt 100p.swf file inside a browser or standalone flash player. You can find standalone Flash Players here.

Windows: The SWF was tested with standalone Flash Player version fp11.2.202.235, and the same verison was used to make a projector executable.
Macos: If you manage to get a modern version of Flash Player installed, you need to add a trusted location in the System Preferences. I've successfully tested dragging the SWF into fp21.0.0.182 with those permissions, and fp10.3.183.63 to create a projector which doesn't seem to require the permissions (thanks Matthew!).
Gameplay
This game is mostly exhibition proof. Beware that it has a 2 second cooldown-period on startup where it looks like nothing is happening. but it's just to prevent people from accidentally starting after the high-score screen once the game loops. Press any key to leave the start screen once the prompt appears.
You can put initials into the high-score table but it's a bit opaque. Say you're using keys [q,w,e,r,t,y,u,i,o] to play. The left keys [q,w,e] will change the initial to the previous. The right keys [u,i,o] will change the initial to the next. The center keys [r,t,y] will confirm the current initial.
Digital piano setup
I ran the project on Windows, and created a custom Midi-input-to-keyboard-output tool called Midi2Key. The Midi2Key download is included in the Windows package. For other OS'es, or if you can't get Midi2Key to work, you'll have to figure out a way to make the piano send keyboard commands I'm afraid. Midi2Key is open source on Github.
Exhibitions, support, licensing
I take no responsibility over supporting you running this game in public, however if you want to show this game at a party, event, or exhibition, don't hesitate to get in contact! Please consider donating a reasonable amount for the games you exhibit, including this one.
Download
Click download now to get access to the following files:
Canabalt 100p (macos).zip
11 MB
Canabalt 100p (win).zip
10 MB
Midi2Key (Win).zip
212 kB